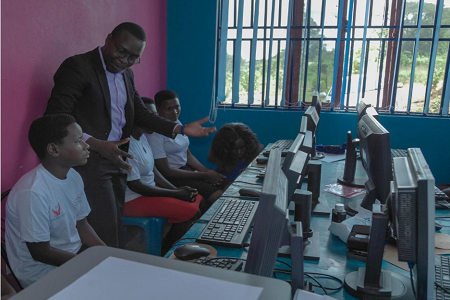 Published Date
July 14, 2022
Uganda has seen a significant rise in internet users over the past decade, which is in large part due to mobile internet access becoming more affordable for many citizens. In 2021, the internet penetration rate stood at 26.2% and there were approximately 3.4 million social media users in the country. This internet access provides social, economic and political opportunities for Ugandans and offers educational opportunities. In addition, social media marketing promotes business opportunities through platforms such as Facebook, Instagram, and a range of social media marketing companies. 
Indeed, the right to freedom of expression and access to information facilitated by the internet are critical to meaningful democratic participation and civic engagement. Although internet access and penetration has substantially grown over the years, online communication is still constrained by two vexing issues—internet shutdowns and connectivity challenges.
Internet Shutdowns in Uganda
Since 2017, internet shutdowns have been on the rise in Africa, and Uganda in particular. An internet shutdown is "the intentional disruption of internet-based communications, rendering them inaccessible or effectively unavailable, for a specific population, location, or mode of access, often to exert control over the flow of information." A third of all elections in Sub Saharan African were accompanied by internet shutdowns or disruptions between 2014 and 2016. 
The first case of internet censorship in Uganda took place in 2006 in the immediate run-up to presidential and parliamentary elections. The Uganda Communication Commission (UCC) ordered local internet service providers to filter and block the internet protocol address of RadioKatwe.com and approximately 700 other sites. RadioKatwe.com published content critical of the government from internet users across the globe making it a clear target for a shutdown. More recently, Amnesty International reported restrictions on freedom of expression when the Ugandan government blocked social media during the 2021 presidential elections. 
Connectivity Challenges Across Uganda
Government imposed internet shutdowns exacerbate existing connectivity challenges faced by Ugandans. Even with the availability of cheap internet bundles, internet enabled devices are still costly due to excise and value added taxes which curtail the sale of internet and non-internet enabled devices. Only one million Ugandans in rural areas have access to computers. Access to the internet is also affected by taxes such as the initial Over-the-top (OTT) tax which required every Ugandan to pay 200 shillings to access the internet daily on over 50 social media platforms thus denying basic internet access to millions. The OTT has recently been replaced with a 12% tax level on internet data and an additional 18% value added tax, higher than the original tax and thus further limits access to internet. 
Beyond social media taxes, there is also a notable digital divide throughout the country. The state of ICT report revealed that Uganda has a 7% urban to rural gap in internet use, with only 9% of Ugandans in rural areas having access to the internet. Additionally, the report reveals that 36% of Ugandans are digitally illiterate, with 23% lacking knowledge on internet use. The World Wide Web Foundation in 2020 revealed that only 19% of women were online, compared to 27% of men. The mobile gender gap report states that the uneducated, poor and rural women globally are the most unconnected. 
The Impact of Internet Shutdowns and Connectivity Challenges 
Internet shutdowns and connectivity issues limit core digital rights as enshrined in the African Declaration on Internet Rights and Freedom. When one lacks access to internet due to connectivity challenges or deliberate state internet censorship, it means they cannot access information to mobilize and engage their peers, parliamentary representatives, or other political actors on issues affecting them. The internet has been used to mobilize citizens to demand free and fair elections during the walk to work protests in Uganda. However, these protests were affected when the government blocked Facebook and Twitter. In 2021, the government blocked over 100 virtual private networks (VPNs) and ordered the Ugandan Communication Commission to block social media including Facebook, Twitter, and Instagram, thus depriving Ugandans the right to exercise their freedom of expression and association online.
Internet shutdowns and connectivity challenges deprive citizens of the right to access online information regarding voting centers, voting process, voting requirements and eligibility, vote counting, winners, and violence during elections. This consequently undermines election transparency and election reporting by denying citizens access to information on the election process. This was evident in 2021 when Uganda's opposition launched a mobile application to monitor elections and the government responded by shutting down internet access. In addition, during this election, internet shutdowns led to reduced visibility of the opposition who ran online campaigns after radio and TV stations were ordered to stop hosting them. Internet shutdowns violate basic human rights and create situations that silences media outlets, oppose governmental candidates, voters, and journalists.
Pushing back on internet shutdowns and connectivity challenges
Digital rights advocates and other civil society groups have pushed back against internet shutdowns. This has included suing the government, global awareness-raising campaigns, and joint statements outlining how problematic they are. Civil society organizations such as the organization I co-founded, the Rural Aid Foundation, have implemented digital rights projects to advance digital literacy and address the gender digital divide. Additionally, the Rural Aid Foundation recently undertook a peaceful demonstration at their computer center in Kibaale. Another Ugandan civil society organization, Unwanted Witness, filed a court case against the government's decision to shut down the internet during the 2021 presidential elections in Uganda. 
While substantial progress has been made to combat internet shutdowns, the increased reliance on technology to engage politically and economically creates avenues for governments to continue to impose restrictions that hinder access to reliable information. Therefore, civil society, local private sector organizations, and media should undertake national level advocacy campaigns and engage in coalitions that push back against internet shutdowns and digital rights violations.