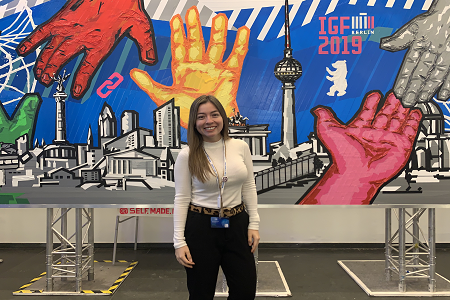 Published Date
April 20, 2021
In recent decades, citizens around the world have continuously relied on the internet to engage with one another socially, politically, and economically. Yet, digital challenges such as disinformation, hate speech, and artificial intelligence bias have undermined the preservation of an inclusive, secure, and trusted internet. Furthermore, given that these challenges are complex and often transnational in nature, it is nearly impossible for a single country or stakeholder group to resolve them. Rather, it is essential that diverse stakeholder groups across the globe, including local business communities, civil society, independent media, and governments, work together in a constructive way to shape global norms and standards on how the internet should be governed. Such collaboration between diverse stakeholder groups can help ensure that the internet remains a space that upholds democratic values. 
As a Peruvian lawyer, I am committed to maximizing the potential of digital technologies to foster democracy, diversity, and development. My participation as a fellow in the South School of Internet Governance and in international dialogues, such as the United Nations Internet Governance Forum (IGF) and RightsCon, allowed me to learn about the latest regulatory trends and perspectives from around the world and participate in conversations with various stakeholder groups. I have also contributed to discussions with policymakers focused on how digital rights should be considered when developing and deploying new technologies. Through these experiences and others, such as my participation as a member of the organizing committee of the Peruvian Youth IGF and the Youth Latin American and the Caribbean IGF, I came to see the value in ensuring that all stakeholder groups can meaningfully participate in conversations around digital governance. Leveraging my experiences, this blog outlines the importance of engaging in international and local fora focused on internet governance, and includes practical suggestions on how to engage in these discussions.
Defining Internet Governance
Internet governance is defined as "the processes that impact how the internet is managed."  Various stakeholder groups can shape internet governance in their respective roles by contributing to conversations that develop shared principles, norms, rules, decision-making procedures, and programs around the use of the internet. Each year, stakeholder groups such as multilateral organizations, government representatives, the private sector, independent media, and civil society organizations contribute to these discussions. For example, the IGF provides an open discussion platform for key legal, political, social and technical issues relating to the digital space. Developed at the World Summit on the Information Society in 2005, the forum allows for the unique gathering of participants from all backgrounds to share their insights and experiences on an equal footing. This year, the sixteenth annual IGF will be hosted by the Government of Poland in December, under the overarching theme "Internet United." 
Contributing to Local and Global Conversations on Internet Governance
According to the Open Internet for Democracy Advocacy Playbook, engaged citizens from across civil society, the technical community, academia, the private sector, and government, have an important role to play in advocating for digital rights, educating policymakers, and shaping the implementation of new digital policies to ensure a democratic digital space. Some benefits to participating in conversations on internet governance include informing decisions on internet policy, staying updated on the latest developments and concerns related to emerging technologies, hearing different perspectives from diverse stakeholder groups and countries, and leveraging the conferences to showcase your own projects and initiatives. 
Once you've made the decision to participate in global or local fora on internet governance, here are five important tips to keep in mind: 
1. Review the forum schedule in advance and make sure to note the dates and times of the sessions that you are interested in.
2. Prepare to speak up when the floor is open for comments or questions. These conferences are a safe space, and sharing lessons learned and best practices or asking questions can lead to more informed policy making. 
3. Demonstrate your social skills and empathy, and analyze topics from both an international and local perspective. 
4. Maintain curiosity and get to know organizations that are working on other initiatives regarding internet governance or digital rights.
5. Recognize diversity, be mindful, and avoid using discriminatory commentary that could offend other participants.
Internet governance fundamentally deals with addressing concerns within the digital space that affect nearly everyone across the globe. Multi-stakeholder participation in internet governance can lead to new and better-informed policies, norms, and standards. Together, we can foster a more democratic, open, connected, and trustworthy internet for everyone.
Your opinion matters. Make your voice heard!