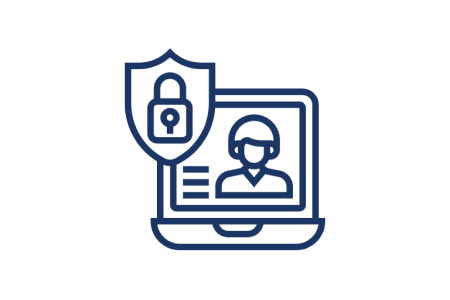 Everyone should be entitled to privacy online. Institutions and entities that hold personal data have the obligation to collect, retain, process,  dispose of, and disclose it responsibly. 
What does this look like in a democracy?
Security measures and online restrictions implemented by governments or other entities must be consistent with international human rights law and standards. Privacy and data protection also includes protection against unethical hacking, data interception, and identity theft. Internet intermediaries ensure adoption of policies and practices that protect against illegal requests for personal data by state or non-state entities.
warning signs of an undemocratic internet:
A government authority requires that all computers sold in the country be equipped with filtering or surveillance software.
Organizations that collect personal data from consumers do not ensure confidentiality and privacy of those data.
Citizens are required to register their social media account usernames with the government so that it can easily track down and punish those who make anti-government statements.
Governments criminalize encryption preventing citizens from safely corresponding with one another; journalists communicating with sources, and others.
Government track all the activities and transactions of individuals using meta data analytics of citizen's identity card.
Security and police forces requiring access to individual internet use by taking an individual's phone.
selected sources from international frameworks:
Standards for a Free, Open and Inclusive Internet, Office of the Special Rapporteur for Freedom of Expression of the Inter-American Commission on Human Rights, 2017

Paragraph 204: "To protect privacy on the internet, the confidentiality of personal online data must be guaranteed."
Paragraph 212: "Internet surveillance in any of its forms or nuances constitutes interference in the private lives of people and, when conducted illegally, can also affect the rights to due process and a fair trial, freedom of expression, and access to information. It is recognized both regionally and universally that illegal or arbitrary surveillance and interception and collection of personal data affect not only the right to privacy and freedom of expression but can also run contrary to the precepts of a democratic society"
Paragraph 227: "anonymous spaces that are free of observation and where identities and activities are not documented must be guaranteed."
Paragraph 228: "States have an obligation to respect anonymous discourse as an exercise of privacy and freedom of expression and may only exceptionally require authentication or proof of identity from the person expressing it, applying a standard of proportionality."
Paragraph 231: "Measures to restrict encryption reduce people's ability to protect themselves from illegal invasions of their privacy."