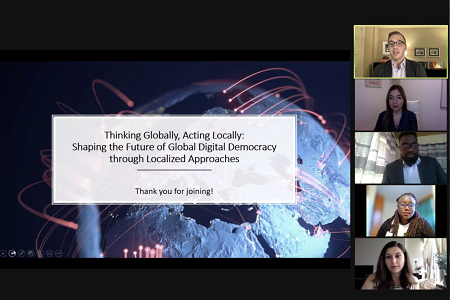 Published Date
September 29, 2021
With internet freedom on the decline for the 11th consecutive year, digital authoritarians are not only increasing their technological capabilities, but also widening the scope in which their technologies are used for nefarious purposes. In particular, the ongoing COVID-19 pandemic  has given governments an excuse to put in place restrictions on free expression as well as to gain access to increasingly personal data, thus potentially laying the groundwork for a digital surveillance state.
To reflect on some of the strategies that digital rights activists feel are essential to countering these trends, the Open Internet for Democracy Initiative hosted a public discussion titled, "Thinking Globally, Acting Locally: Shaping the Future of Global Digital Democracy through Localized Approaches." The event featured four of the 2020-2021 cohort of Open Internet for Democracy Leaders who discussed the insights they have gained about the trajectory of internet freedom in the course of carrying out their research and advocacy projects. The panel also discussed ways in which the global digital rights community can better support local initiatives. 
The State of Internet Freedom
The current state of internet regulation tends to follow one of two paths. The first views regulation as a mechanism to create a more accountable society, although the attempts often fall short. Meri Baghdasaryan described Armenia's recent attempts to regulate disinformation, in which the policies proposed would have required all media sources to be public and cited. While this policy cracks down on mis- and disinformation, it also removes the option for anonymity, and therefore increases risks to individual safety of journalists' sources. This would inadvertently hamper free speech and journalistic freedom. In an ecosystem where users may be punished for voicing their opinions, free speech would wane.
The second path uses internet regulation to blatantly promote censorship. Catherine Muya  discussed how governments in several East African countries have shut down the internet close to elections, obstructing communication between citizens and organizations including activist groups. Internet shutdowns significantly degrade the ability for journalists to report on topics of public concern, and therefore are anathema to the free flow of information. She also observed that when social media companies like Twitter implement more stringent content moderation policies some African governments see this as a usurpation of their ability to determine the validity of speech. This was the case of the Nigerian months-long Twitter ban, which was the result of the company removing content posted by the county's president as it was determined to violate the platform's rules.
Global versus Local
Panelists agreed that government regulations should be developed that explicitly take into account local context, rather than simply adapting laws developed in other countries. Paola Galvez saw that firsthand when the Peruvian government based its internet legislation off of already existing US and EU legislation.
The same holds true in cases when policies developed by global technology companies largely based in the US and Europe are implemented in the Global South. Gideon Sarpong noted that these companies typically do not do enough to address the specific needs created by different country histories and standards, and as a result, apply a blanket implementation approach that isn't very effective. In his view, the best policies should incorporate a human-centered design approach in which regulations are developed by and for those who will be affected. While there are fears that increased internet regulation on a country-by-country scale will fragment the larger global internet due to stricter standards at the country level, global standards are still needed and do serve a purpose in creating a floor for basic internet standards.  
Strength in Multistakeholder Coalitions
A necessary element in preserving an open and democratic internet is to create diverse coalitions that include subject-matter experts, technologists, and policymakers among others. Multistakeholder digital rights coalitions are key to fostering an open and pluralistic internet. Fostering this type of digital space is not a short-term project, but instead a long-term process that will need continued support from all sectors—solidarity and collaboration are key. 
Panelists shed light on the ways democratic organizations and funders can aid in the work of local digital rights activists working to impact global technology conversations. The recommendations included: 
Increased funding, by global organizations, for locally-led initiatives;

Capacity-building opportunities for local digital rights leaders and organizations; 

Sharing technical expertise—particularly for those newer to the digital rights space; and

Training and education initiatives for policymakers. 
Despite the pressing threats to digital rights and internet freedom around the world today, the work of the Open Internet for Democracy Leaders demonstrates that the global community of digital rights defenders will continue to push for an open and democratic internet. The future of the digital public sphere will depend on the ingenuity, creativity, and commitment of dedicated and likeminded activists from every part of the globe.
Summer Boucher-Robinson is a Project Assistant on NDI's Democracy and Technology team, focusing on topics related to open internet, emerging technologies, and cybersecurity.