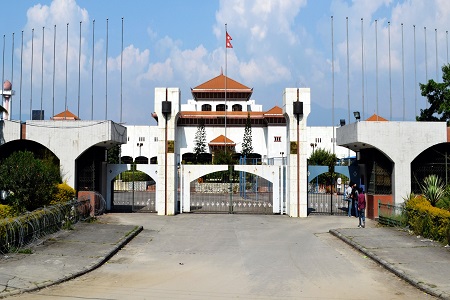 Published Date
November 29, 2022
Freedom of expression is often referred to as one of the crucial components of democratic governments. It is important for political freedom and the foundation of democracy. In this modern time, freedom of expression is also considered the oxygen of democracy. A recent report from the International Telecommunications Union estimates that the global internet penetration rate has spiked in recent years; it is estimated to be 63% as of 2021. The escalated adoption of the internet has provided numerous creative ways to empower people, not limited to entertainment, gaming, and social media. The internet has revolutionized the way people communicate and express their views, opinions, and feelings. With this growing importance, the topic of freedom of expression online has become prominent and gained attention  in different international meetings and fora.
The right to freedom of expression online is already enshrined in many international human rights treaties, which include the Universal Declaration of Human Rights, The International Covenant on Civil and Political Rights, the European Convention on Human Rights, and the American Convention of Human Rights. Despite these treaties, a recent Freedom on the Net report indicates that 30 countries have intensified efforts to curtail human rights over the internet, and found that global internet freedom has been declining for the last 11 consecutive years. Now, while social media activists, civil society groups, and journalists are now able to reach a wider range of audiences and take their activism to the next level with minimal to no cost, there are also oppressive governments that still find their ways to curtail freedom of expression on the internet.
In line with the global scenario, internet adoption in Nepal is also skyrocketing. The recent MIS report by National Telecommunication Authority (NTA) shows that 90% of the national population has access to mobile broadband, and that 30% of the population is already in reach of fixed broadband. Among all internet services, social media platforms have garnered the most users. A 2022 report from DataReportal shows that 12.3 million people in Nepal are using Facebook as of January 2022. In this context social media platforms have become the most popular medium used to express opinions, and are often used for activism and philanthropic campaigns. One such example is the "Enough is Enough" campaign, one of the biggest youth movements in Nepal, which led people from social media to the outskirts of the Prime Minister's residence demanding better action, transparency, and accountability during the Covid-19 insurgency period. "Enough is Enough" illustrated the potential for widespread use of the internet and social media for advocacy causes in Nepal. Despite the success of the campaign, there have also been incidents that portray government suppression of freedom of expression online in Nepal.
In Nepal's legislation and legal framework, article 17 2 (a) of the Constitution protects the "Freedom of opinion and expression" in line with other rights and freedoms. Article 19 of the Constitution of Nepal also protects against censorship of any news item, editorial, feature article, or other sources, including electronic publications broadcasted over any medium.
The divergence in Nepal from what is stipulated in law vs. what is practiced stems from the fact that while freedom of expression is ensured by the constitution, some acts, rules, and regulations have been used to undermine freedom of expression online. This includes the Electronic Transactions Act of 2006, the Online Media Operation Directives 2073, and the National Penal Code. One of the major instruments being used to curtail freedom of expression online is Section 47 of the Electronic Transactions Act, which outlaws any electronic publication that can be deemed illegal under existing laws, along with any material "which may be contrary to public morality or decent behavior or any types of materials which may spread hate or jealousy against anyone or which may jeopardize the harmonious relations subsisting among the peoples of various castes, tribes and communities." This Act has been used multiple times to stifle freedom of expression in Nepal. In 2019, the ETA was used to arrest a comedian for his review of a movie, as well as other artists. In 2020, former Secretary Bhim Upadhya was arrested because of his social media post criticizing the government and its ministers, and popular folk singer Pashupati Sharma was forced to pull his song from YouTube after he was threatened by the youth wing of the ruling party in Nepal.
Similarly, the Online Media Operation Directives 2073 also outlaws publication and broadcast from online media of anything deemed to harm Nepal's sovereignty, territorial integrity, nationality, or good relations among the federal units, various caste, ethnic groups, religions, or communities, or acts against public protocol or morality. Similarly, the recent amendment in National Broadcasting Rules of 1995 (11th Amendment,) which seeks to regulate over the top (OTT) and Video on Demand (VOD) services, will require any individual or an organization that uploads a video through online streaming services to get a license. Such licenses can cost half a million rupees, curtailing the freedom of expression on the internet for those who cannot meet such a high cost burden.
Other draft legislation indicates that Nepal's space for freedom of expression in cyberspace is shrinking. The Government of Nepal tabled an information technology bill in 2018, which contained provisions related to intermediary liability, freedom of expression, content regulation, and registration of social media companies (including foreign companies.) The bill would authorize the government to censor online content and punish offenders with up to five years of imprisonment and fines of 1.5 million Nepali rupees. While the bill was passed by a parliamentary committee, it has not yet been endorsed by the parliament. Upon endorsement, it would replace the Electronic Transaction Act of Nepal.
Similarly in May 2019, a new bill was proposed related to the Amendment and Integration of Laws Related to Nepal Media Council, which would replace the existing Press Council Act of 1992. This would authorize the media council to impose fines up to one million rupees on journalists and media houses. Another bill drafted in 2019 on mass communication would empower the government to sentence journalists up to 15 years of imprisonment for broadcasting content deemed to be against sovereignty, territorial integrity, and national unity. With all these recent developments, it is clear that such drafted laws are moving in the direction of undermining the freedom of expression guaranteed by the Constitution. These developments indicate that the government wants to control the freedom of expression in the name of decency, national unity, and public morality.
Conclusions
Freedom of expression online has been safeguarded within the constitution of Nepal and recognized by global human right treaties. In Nepal, there is a risk that freedom of expression will be curtailed through legislation and amendments to existing regulations. 
When arrests are made under Nepal's current and upcoming communications legislation, made in the name of sovereignty, territorial integrity, national unity, and public morality, authorities need to provide a clear cut explanation to protect the fundamental right to expression guaranteed by the Constitution. One of the major loopholes being used to restrict freedom of expression is the reasonable restriction allowed by the Constitution itself. To address this, while still addressing misconduct and criminal activity that occurs online, the grounds of reasonable restriction should also be clarified so that it will not demolish this essential freedom. 
In this regard there is a huge responsibility of all stakeholders to keep the pace of freedom of expression. Although most of the legislation is not taken into public consultation, some are taken into public consultation but the voices from those consultations are not addressed. Civil society stakeholders should take different approaches to keep up the attention of the government. This includes writing op-eds, submitting comments by organizing collective public consultations, raising public awareness, social media campaigns and so on. Its crystal clear that civil society must fight for the rights of the public until they are assured.