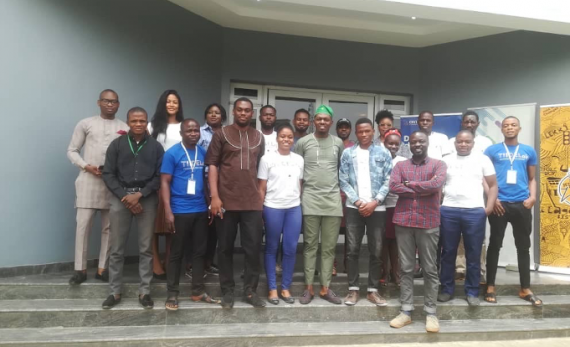 Published Date
August 27, 2020
To spark conversations that address policies restricting an open internet in Nigeria, I hosted a roundtable discussion in Abuja, Nigeria, earlier this year. The purpose was to provide a forum for participants to share their insights on how digital rights advocates and policymakers can work together to develop and implement legislation that promotes digital rights.
The multi-stakeholder dialogue convened 23 representatives from organizations such as the Ministry of Communications Nigeria, the British Broadcasting Corporation (BBC), the Cybersecurity Experts Association of Nigeria (CSEAN), Paradigm Initiative, the Abuja Chamber of Commerce and Industry (ACCI), News Agency of Nigeria (NAN), the Public and Private Development Centre (PPDC), TIIDELAB, Yiaga Africa, and To Build a Nation. 
Participants noted three principles in the Democratic Principles for an Open Internet (The Principles) that are key areas of concern for many Nigerians today: accessibility, data privacy and protection, and governance. The following sections summarize the discussion as they pertain to each of these areas: 
Accessibility    
The Principles explain that in a democracy, "all members of society have an equal right to learn about, access, and use the internet." The participants reaffirmed this belief, stating that access to internet is, in itself, a right of every citizen and proposed that governments should ensure better access to the internet in order not to limit free expression and association in the digital space. 
A representative of Nigeria's Ministry of Communications highlighted government efforts to make the internet more affordable and reliable for business owners, and the society at large, by referencing the 2020-2025 Broadband Plan designed to deliver increased data download speeds across Nigeria. This new plan builds upon the 2013-2018 Broadband Plan, which was a strategic roadmap to make affordable broadband accessible to all Nigerians. Despite efforts made by the government to increase access, participants observed that poor internet access remained a key concern stifling the development of an open and inclusive internet. 
Data Privacy and Protection
Data privacy and protection was another key concern because citizens are often unaware of how their personal data is collected or used. Participants shared key insights on data privacy and its importance for individuals to have a greater sense of awareness on how personal information is collected and shared in the digital space. Yet, most Nigerians still lack the knowledge of what data privacy entails and awareness of the dangers of data infringement, especially by the government or private sector actors. 
Accountability was another important issue discussed, including the need for government accountability, particularly as it relates to the mining and use of citizens' data and judicial oversight over the use of advanced technologies. While the European Union's General Data Protection Regulation (GDPR) was referenced, the Nigerian government should solidify its own efforts to protect the data privacy rights of its citizens. One approach would be to make the Nigeria Data Protection Regulation into a law or intensify its enforcement to encourage the private sector and government to better manage personal data.
Governance    
National and regional policy frameworks that support digital inclusion and data privacy throughout Africa need to be in place to ensure the creation and preservation of an open and inclusive internet. Some positive legislation in Nigeria is already under consideration. For example, the Digital Rights and Freedom Bill asserts the right of internet users in the digital space. At the same time, several legislations, such as the Cybercrime Act 2015, the Lawful Interception of Communication Regulation (which has been used to track journalists), the Hate Speech Bill, and the Social Media Bill, were all cited by the participants as potentially harmful to the development of an open and inclusive internet.
This multi-stakeholder discussion underscored the need for digital rights advocates to develop stronger relationships amongst themselves and with policymakers, as collaborative efforts that push-back against authoritarian encroachments in the digital space is more important than ever before. Such engagements should include grassroots-driven initiatives that engage with policymakers, as new laws and regulations are being considered. 
In one successful effort in Nigeria, digital rights advocates invited the senator who sponsored the Freedom of Protection Bill to a closed-door meeting to highlight their concerns for the bill. Following the meeting, the advocates engaged in a public awareness campaign to highlight aspects of the bill that are concerning for digital rights. After the large amount of opposition to the bill at a public hearing, the bill was not passed. This successful grassroots-driven intervention highlights the importance of engaging with policymakers – in Nigeria and beyond – as new laws and regulations are being considered.