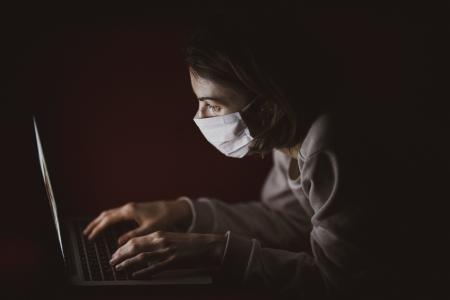 Published Date
November 2, 2022
Photo by engin akyurt on Unsplash
At the end of 2019, news spread of an infectious disease caused by the severe acute respiratory syndrome (SARS)-CoV-2 virus (COVID-19). Its spread created a pandemic with unprecedented impacts; one of those being an information epidemic, or "infodemic." The term "infodemic" was coined by David J. Rothkopf to explain the phenomenon of excess information including false content that occurred during the outbreak of SARS in China in 2003. The World Health Organization (WHO) defines an infodemic as "too much information including false or misleading information in digital and physical environments during a disease outbreak.'' This information makes it hard for citizens to find trustworthy sources and reliable guidance during a public health crisis. The infodemic during COVID-19 resulted in the spread of false content namely, misinformation and disinformation, that confused populations about health measures and government guidelines.
As part of my project under the Open Internet for Democracy Leaders Program, I researched the mis/disinformation landscape during COVID-19 in Sri Lanka, and its impact on select stakeholder groups. Through my initial desk research, I discovered that during the first two years of the COVID-19 pandemic (2020 and 2021), Sri Lanka witnessed an increase in the number of internet users by 800,000, with the number of social media users rising to 1.5 million. In response to the infodemic caused by emergence of COVID-19, the government of Sri Lanka approved a resolution to draft a bill to "protect society from harm caused by false propaganda on the internet" and curb the spread of misinformation.  There were also reports of individuals being detained and arrested over social media posts and the establishment of a special team to patrol cyber space. Additionally, in late December 2020, there was a surge of 'fake cures' that proclaimed to help curb the spread of the virus. This was circulated on traditional and social media and was endorsed by some government officials. 
Following my desk research, I conducted eight key informant interviews with individuals from think tanks, as well as digital rights, civil society, and independent media organizations. Based on the data gathered from interviews, it was clear that Sri Lanka was greatly impacted by the infodemic and witnessed the spread of mis/disinformation, particularly related to health information. For example, vaccine misinformation was extremely prevalent, and this resulted in vaccine hesitancy and the inception of an anti-vax movement. Language barriers also caused issues in gaining access to accurate and timely information on COVID-19, as most information available through international sources was in English. Mis/disinformation also created distrust towards the health sector and stigmatized minority groups as spreaders of the virus. 
In addition to the key informant interviews, I hosted a virtual multi-stakeholder dialogue on September 20, 2022, to present my initial findings and gather additional insights from stakeholder groups. Approximately 15 stakeholders representing civil society, digital rights organizations, and think tanks joined the conversation. The aim of the dialogue was to identify lessons learned on the spread of mis/disinformation during COVID-19 and how diverse stakeholder groups across Sri Lanka can work together to combat mis/disinformation during crisis situations. Participants shared their perspectives and highlighted four key recommendations:
Advancing Digital Literacy and Raising Awareness on the Impacts of Mis/Disinformation
With the rise in the use of social media and the spread of false content, there is a clear need to increase digital literacy that encourages critical thinking, fact checking, and teaches students about the importance of utilizing trusted sources for information. To achieve this, the government could work with educational institutions to prioritize digital literacy programs, and coordinate with civil society and independent media organizations during the development of the curriculum. In addition, civil society organizations and think tanks could develop and implement similar programs geared towards specific communities and villages across Sri Lanka. 
Encouraging Accurate and Timely Reporting of Information 
It is important for citizens to hold media institutions accountable and demand accurate and timely reporting, especially during crisis situations such as the COVID-19 pandemic. It is also important to implement programs that educate journalists to report accurately and equip them with skills needed for investigative journalism. 
As mis/disinformation can spread rapidly across social media platforms, citizens should also hold social media companies accountable in addressing mis/disinformation through their respective platforms. Moreover, as false information can be spread in local languages, social media companies could work with local organizations to identify, report, and verify any instances of mis/disinformation across communities.
Engaging with Government to Strengthen Legislation 
Civil society, local private sector, and independent media organizations could seek to engage with the government to identify opportunities to strengthen existing legislation that seek to address issues of mis/disinformation. For instance, The Right to Information Act (No 12 of 2016) is a relevant piece of legislation that could be reviewed to understand how citizens are currently able to access information from public authorities and ensure that citizens have unfettered access to accurate and timely information. 
Developing Effective Communication Strategies 
To increase transparent, accurate, and timely information during COVID-19, the government could also engage with multi-stakeholder coalitions to strengthen channels of communication and enhance communication strategies. At the same time, crucial information given to the public should be published in all three languages (English, Sinhala and Tamil) and through social and mainstream media. The content being communicated should be engaging and use evidence to provide citizens with information that can help them make informed decisions. 
The spread of mis/disinformation during crisis situations such as COVID-19 can greatly impact individuals and various stakeholder groups. Therefore, there is a need for stakeholder groups, ranging from civil society, media, journalists, academia, think tanks and the government to work together to increase digital media literacy and provide access to accurate and timely information. 
The Open Internet for Democracy Leaders Program provided me with the platform to delve into my research and engage with other digital rights advocates across the globe. I was equipped with the knowledge on advocating for digital rights issues while catering this to Sri Lanka's unique country context. Though my journey as a Leader is ending, I believe these skills and networks will help me continue to push for reform and change for various digital rights issues in the region.