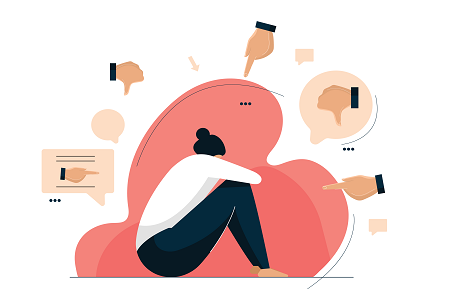 Published Date
September 30, 2021
The idea of an open internet is hinged on the tenet that all citizens can freely voice their opinions, share ideas, and debate (Democratic Principles for an Open Internet). Free expression and other democratic principles of an open internet are pivotal and must be extended to everyone, particularly women and girls.
Despite this, there is wide consensus that the internet has not been a space where women and girls can freely voice their opinions, share ideas, and debate. UN Women has raised concerns about online violence, particularly during the COVID-19 pandemic, and long before that, the European Parliament publicly raised concerns as well. The reality is that gender-based violence exists, and it affects millions of women and girls online.
Online violence contributes directly to widening the digital divide. The World Bank is particularly worried about this situation in Africa, where it reports that "three hundred million fewer women than men in low- and middle-income countries have access to mobile internet…for Sub-Saharan Africa in particular [the] gender divide gap stands at 37%." When fewer women have the chance to get online, they have fewer opportunities to self-educate and most importantly, to freely participate in democratic activities online. For economic development purposes, the World Bank cautions, "the digital divide could increasingly prevent women from accessing life-enhancing services for education, health, and financial inclusion in a world that has become virtual overnight."  
For most of the African region, data on online violence is largely missing, and the same is true for Namibia, where little to no national data on online violence against women and girls is collected. However, numerous cases of violence online have surfaced, affecting women from all walks of life. Recently, First Lady Monica Geingos stood up against online violence and drew national attention to the issue by calling out the internet bullies and trolls in a viral nine-minute video. 
Can this be fought through legislative means?
Given this situation, it is worth attempting to assess if there is a way to protect women and girls online and ensure that their rights and dignity are respected, while also ensuring that culprits responsible for online violence are held accountable.
Our work at the Internet Society Namibia Chapter recently aimed to find opportunities through legislative development to protect women and girls online. Through a wide stakeholder validation with organisations and institutions in the technology, gender, and human rights sectors, ten organsations and institutions helped develop and support policy recommendations aiming to ensure inclusivity in curbing online violence against women and girls in Namibia using the draft Data Protection Bill as a starting point. This latest effort follows our previous work, which included leading a Women Digital Forum in 2019 ahead of the national assembly and presidential elections, and the subsequent launch of the Women Rights Online Report in Namibia in 2020. 
In principle, Namibia's upcoming Data Protection and Privacy law could be used to meet national commitments, including meeting UN Sustainable Development Goal indicators, promoting increased access to the internet, fighting gender-based violence which has been a challenge in the country, and affirming the progress towards gender equality that the nation has made locally and internationally. 
Creating awareness and garnering support 
As with the case of many technology policies, public awareness of how data protection legislation can curb online violence has not been prioritised. At the Internet Society of Namibia, we found it necessary to share insights with like-minded institutions and organisations in the gender, technology, and public interest communities. We accomplished this via a policy brief that highlighted the draft bill's current shortcomings as well as the opportunities that would ensure not only gender sensitivity as positioned by various international laws and conventions, but a data protection law that is responsive to everyday online challenges facing women and girls. 
Following the policy brief, the Internet Society of Namibia organised an online webinar, detailing the background on data protection and highlighting opportunities for Namibia based on best practices from the continent. Participants representing nearly 30 organisations agreed that women and girls face many dangers online. Other participants detailed how the shortcomings of police in dealing with online violence has let the situation go unabated, all while agreeing that the draft Data Protection Bill would be an opportunity for action. 
At the end of the webinar, the Internet Society compiled recommendations supported by eleven organizations and institutions, who all agreed that the bill should recognize violence online as a serious matter to achieve local and global development outcomes, especially Sustainable Development Goal 5, which would ensure inclusion of women in online participation. 
Together, the stakeholders have agreed that it is regressive to pass gender blind law, and recommended specifically that the bill addresses this issue by using inclusive and nuanced language and definitions and also by amending specific sections within the draft bill in order to address the unique threat of online violence for women and girls.  In addition, our recommendations speak directly to the implementation of the bill: specifically, that gender be considered in the formation and setting up of the Data Protection and Supervisory Authority that the bill will bring forth.
While the Namibia Data Protection Bill is still being deliberated, we strongly urge lawmakers to make the necessary amendments to create and preserve gender equality and privacy online.