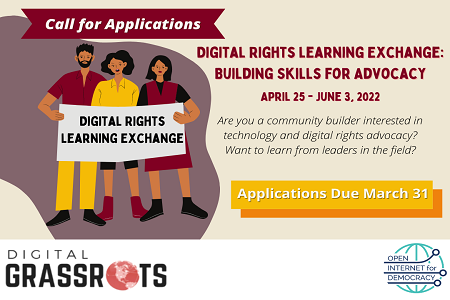 Published Date
March 15, 2022
In the digital age, democracy requires online spaces where citizens can freely engage with one another—socially, politically, and economically—without unnecessary and disproportionate restriction. The Digital Rights Learning Exchange is a six-week virtual course covering the essential skills needed to become an effective advocate for a democratic digital space. Designed specifically for those who are new to the digital rights space, the course will enable up to 25 participants with an interest in technology and digital rights to learn from leading experts in the digital rights space.
Course topics will include:
Effective writing and communication for digital rights issues

Using data in advocacy campaigns

Staying safe online while conducting advocacy

Measuring the impacts of advocacy work
In addition, course participants will apply the advocacy skills and strategies learned during the course by working in groups to design a real-life advocacy strategy around a key digital rights issue. Projects will be supported by mentors from the digital rights community and will be presented during the course's final session.
This program will be delivered through a mix of live Zoom sessions with instructors and guest speakers, as well as asynchronous resources posted on the online course platform. While applicants from any region are welcome to apply, please note that all live classes are expected to take place during weekday afternoons and evenings UTC.
Participants should have:
Interest in digital rights advocacy

Strong written and spoken English (all live sessions and course materials will be in English)

Community building and leadership experience

Ability to commit to six (6) hours per week of program activities, for six weeks, from April 25, 2022 to June 03, 2022.

A reliable internet connection (a modest connectivity stipend will be provided)

A willingness to share experiences and learn from one another

Preference given to applicants from or residing in

non-OECD countries

.
Timeline:
Applications open: 15 March 2022
Applications close: 31 March 2022
Course begins: 25 April 2022
No late submissions will be reviewed. Successful applicants will be notified by 18 April 2022.
Course Organizers
Digital Grassroots (DIGRA) is a youth and female-led nonprofit working to increase digital citizenship on internet governance and digital rights among youth from underrepresented communities globally. Through open leadership, community engagement programs, and mentorships, Digital Grassroots promotes youth activism in shaping the Internet ecosystem.
The Open Internet for Democracy Initiative (OIDI) brings together civil society, political leaders, journalists, and the business community to advocate for the shared resource of an open and democratic internet. Since 2016, OIDI has worked closely with digital rights advocates from twenty-two countries to support their local advocacy work and connect them to their global peers.